Nationals Day 1 (Monday, 10/12)
4:30 am:
NOTICE: All competitors are released until at least 10:30 a.m. due to weather. Expect another update by 9:30 a.m.
Ugg... back to bed. :(
9:15 am:
Well, I got teased by the weather a lot on the way here from Houston. Holes in the clouds with sunbeams in them, breaks in the fog--I even saw the sun a couple of times! Unfortunately, we're still socked in with clouds, fog, and intermittent rain here at Skydive Spaceland.
This just in... All competitors are released until at least 2:30 p.m. due to weather. Expect another update by 1:30 p.m. :( Agh! Well, that should allow plenty of time to post some photos from last night, stay tuned for those.
UPDATE (10:30 am):
There are sucker holes all around now! If your team is here and ready to jump before the posted 2:30 check-in time,
let Dan know in the Nationals manifest
(inside the air-conditioned packing area). There's a chance we might get in the air sooner!
UPDATE (11:15 am):
Competition load 1 is on a 15-minute call, here we go!!!!
11:45 am:
It is ON!!! Load 1 is in the air!!!
12:30 pm:
Noooo.... we're back on a weather hold. Previous weather hold/competitor release time still applies. Stay tuned.
While we wait, here are a few photos from last night's briefing and thereafter...
1 pm:
Load 2 is on a 15-minute call!!!
CamScore is upgrading some video cards for higher-resolution imagery, but we're hoping to see some live judging video and results from load 1 soon. So far moisture on camera lenses at lower altitude hasn't been a problem, so competition altitude will be 10,500 feet.
3:35 pm:
Sorry for the delay in posting; it got a bit busy around here! 25 of the 33 intermediate teams have done round 1 and CamScore's still working on the video hardware upgrade, so we've added some unofficial results to
www.uspanationals.com/results.htm
. They're unofficial because they're done by hand, not served out of CamScore.
And you guessed it... it's raining again. Seriously raining. Like, where's my ark rain. But it's South Texas, so hopefully that won't last too long. As always, stay tuned for more!
3:45 pm:
Rain's letting up already, we'll see how it goes.
4:10 pm:
...and we're back! On a call, that is. The rain's moved out and it's becoming a typical hot, steamy South Texas afternoon.
5:30 pm:
That call didn't last long, unfortunately. The weather's back in the toilet again, and the teams that have already made a jump have been released for the day. Our call tomorrow is the same as it was this morning, be here at 7 a.m. for a 15-minute call.
We'll go work on team photos and such, check back on that in a bit!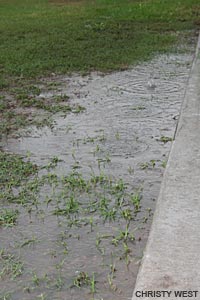 6 pm:
It's official, we now have the real-deal CamScore results page going! See
www.uspanationals.com/results.htm
for available, updated scores. We're working on team roster pages and will let you know when they're ready. Oh, and on those team pages... We are missing a LOT of team photos. If your team is all here,
please, please, pretty please
stop by the backdrop next to the registration table this afternoon and see Jim Slaton to get your team's photo made. It's pouring, what else are you going to do?
6:15 pm:
And we're back on a 10-minute call for competition load 8!
7:15 pm:
Done for the day after a couple of loads and a gorgeous sunset; the judges are gearing up to score dives so look for updated scores here shortly! Also, check out the
team roster pages
(photos coming soon, get your team photo made ASAP tomorrow if you haven't already!).
8 pm:
Judging continues, check out the new handy
results pages
! Wow, that's a tough round for Ranch Fallout, they had four busts to give them a 4. Give me a few minutes to get these team photos done, maybe I'll get to watch a round or two...
Got the story on that round for Fallout, Block 13 (hammer-hammer) requires the solo flyers to turn in opposite directions.
8:20 pm:
OK, we've got 22 team photos on the site now (click your team's name in the results page to see it!). That means I'm missing about 35 of you... please take care of that team photo ASAP in the morning so I don't have to call you out by name and make you infamous. :-)
So to wrap up the day...
2 of 16 open teams have done Round 1. Elsinore BTE gets to rule that class for the night, with a 13 in Round 1.
All 8 advanced teams have done Round 1, and the Furies have a 1-point lead over Aerodyne and Havoc.
All 33 intermediate teams have done Round 1; VTSD has gone out to an early 2-point lead over Carolina Ice and Cross Keys NRG.
We'll leave off the day with a few gorgeous sunset load pics:
The schedule's the same for tomorrow as today... 7 am show for a 15-minute call, and there will be an update on
www.uspanationals.com
by 6 a.m. in the event of weather. See you then!
10:55 pm: UPDATE FOR TOMORROW:
Weather permitting, open teams have a 15-minute call at 7 a.m., intermediate at 7:15, advanced at 7:30. Weather update at
USPAnationals.com
by 6am.
Labels: 4-way, USPA Nationals