Everything's Bigger in Texas... Including the Swoop Pond
If you haven't been out to Skydive Spaceland in a couple of weeks, you haven't seen all the construction that's going on out here. Besides the groundwork that's going on for the new airplane hangar next to the main hangar, there's also a really, really big hole in the ground where the old pond used to be. That hole in the ground will soon become the world's biggest custom-made swoop pond, measuring 500 feet by 250 feet. There's already talk of bringing in jetskis... pick me! :-)
You have to see this to appreciate it, so here's a photo: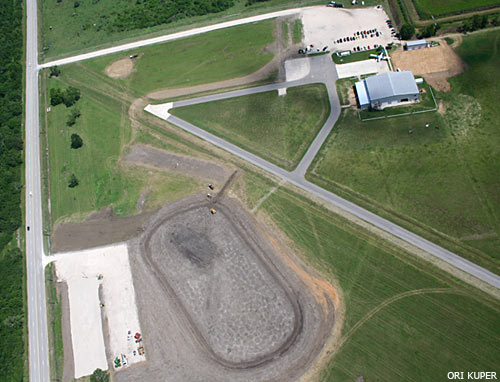 The 500x250-foot swoop pond under construction.
The pond's banks will have a very gentle 1:7 slope, so if you run afoul of the pond's lip, it won't have such a hard edge to snag you with.
Here are a few more details about the pond:
125,000 square feet
3 feet deep
0.284 miles around the edge (laps, anyone?)
2.8 million gallons
The pond should be filled and ready for swooping around June 1--in plenty of time to practice for Swoop Week!
---
This weekend's scoop:
Starting tomorrow (Friday), Spaceland's going to be a busy place. SPX8 will be training all day Friday through Sunday with a coach. Vortex, BS5, and TBD will be training this weekend too, so the place will be hopping! Come on out and have a good time with us!
Labels: swoop pond